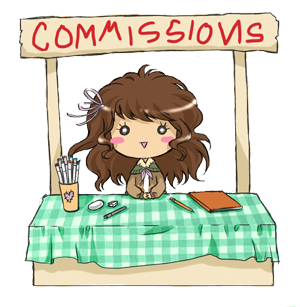 I Will Draw
Straight, shonen ai and shojou ai pairings
(can be sexy, but no porn)
Original characters
Fanart
Pre-existing characters x Original characters
Humanised animal characters
Chibis
I Won't Draw
Mecha / machinery / vehicles
Detailed architecture
Gore
(blood and minor wounds are fine, but no guts)
Anthromorphic / Furries
(animal features such as ears, tails and wings, etc. are fine)
Loli / Shota (as in, pairings or sexy illustrations involving very young characters, young characters on their own is fine)
Heavy-weighted, elderly or very ugly characters (I'm afraid I'm just not good at drawing them.)
I'm generally pretty accommodating, but I reserve the right to refuse a commission that would make me uncomfortable to draw, even if the reason isn't listed above.



PRICING
currency converter
Please bear in mind that my prices reflect the high cost of traditional art supplies, particularly Copic markers
For colour with minimal / basic decorative colour background
One character:
¾ body character
$40
Full Body character
$50
Additional character(s) - max 3 characters per drawing
¾ body +$15
Full-body +$20
More detailed background/props (i.e: flowers, scenery, animal mascots, etc.) +$10 to $35 depending on level of detail.Budget Options
A5 size (half of A4)
Bust-up character in colour with minimal / basic decorative colour background
$30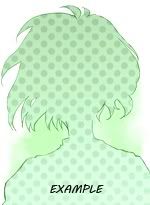 Full body chibi character in colour, no background
$20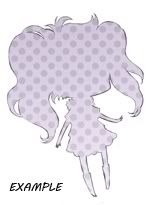 WHAT I NEED FROM YOU
If you are interested in commissioning me, then send me a message here on DA, or an email (to: donna.headintheclouds @ gmail.com) with:

The subject 'COMMISSION'.

Your postal address (+ email address if messaging through DA)

The type of commission from the list you would like.

Reference images and / or a brief description of your character(s); Their age and any personality traits you think would be useful to me when drawing them.

Any additional information (eg: if you have a pose or colour scheme in mine).
GENERAL INFO

Commissions are coloured with Copic markers and drawn on A4 extra smooth Bristol Board (250gsm)

I will upload the finished drawing to my DA gallery with a link back to your gallery (if you have one) in the image description (chibi commission are uploaded in batches).

I will email you a sketch of your commission for you to approve. You may tell me at this point if any details need changing.

Shipping is not included in the commission price but is usually no more than a few dollars.

I attempt to complete all commissions one month from payment. If, due to circumstances, I am unable to complete it within this time, I will keep you notified and
may
offer a discount, depending on the reason.

Payment is required upfront, but I will only take payment from you once I start your commission.

Paypal is my preferred method of payment. My Paypal email address is:
donna.headintheclouds @ googlemail.com
. I can invoice you on request. You can also send cash, money order, or cheque, but you do so at your own risk -
Remember that real cash can go missing in the mail and I will not be responsible!

If I do not receive information / payment for your commission within one week, I will cancel it and give your slot to someone else. I may refuse commissions from you in the future.

All commissions are for your personal use only. You may make copies of the image for yourself, friends or family, but you may NOT reproduce the image for sale in any format!
:thumb158266498: